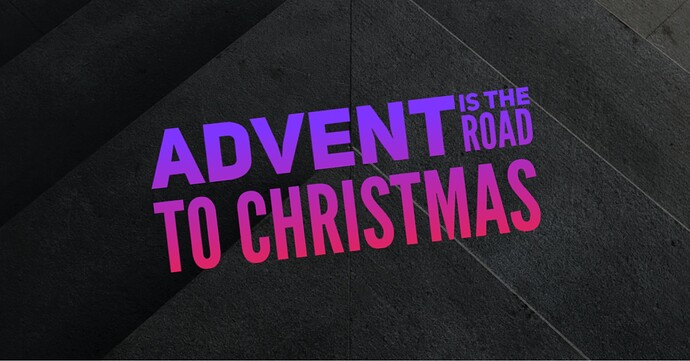 Today's Advent reading is
Romans 15:7-13
. (Click the link to open the passage in a new window).
Without Advent, our focus is finishing the semester, getting through the crunch season at work, what we'll be getting for Christmas, managing travel plans, avoiding or anticipating family, and so on.
But what is the purpose of Advent itself?
In Romans 15, we are reminded that the purpose for all our Christian activity, the purpose for all of our lives, is for the glory of God (verse 9).
If that's the purpose, what's the motivation? In this passage, we see it is because God has done something unexpected. Christ has welcomed us into his family (verse 7).
And if you think that you deserve to be in God's family: why? What do you bring to the Creator of the universe? Why do you belong in the house of a holy God?
Paul's answer humbles us. God fulfilled his promises, through Christ becoming our servant, that we might experience his mercy. And Advent is the perfect time to remember that — strange miracle! — Christ became our servant.
In Romans 15, we also see that this is not only a past-tense accomplishment. Rather, Christ rules over us right now (verse 12). And God fills us with joy and peace by the power of the Holy Spirit - right now (verse 13).
All of this is a great surprise! The root of Jesse is an unlikely source of hope. Go look at a tree stump. Are you impressed? Are you expectant? Do you have great excitement about its future?
When Jesus came, Israel groaned under Roman occupation. They'd waited and waited and waited — 400 years had passed without a prophet. It's enough time to make you think that hope is no more than foolish, wishful thinking. Why look up anymore?
But the God of hope had a plan. Our unexpected, undeserved deliverance is a reason to rejoice.
Personal Reflection and Community Discussion Questions:
How has God's love surprised you?

This Advent, how could you surprise others with your love for them?
You are encouraged to share other reflections on these passages.
You can find this week's Advent 2021 readings here: