Hi friends,
What is the purpose of social media?
Some would say, to share cat memes. My favorite is Grumpy Cat: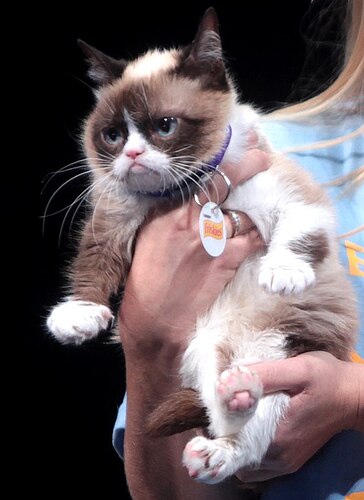 However, according to a synopsis of a study on this question, conducted by HootSuite, here are the top ten reasons:
Stay up to date with news and current events, 36%
Find funny or entertaining content, 35%
Fill up spare time, 34.4%
Stay in touch with what my friends are doing, 33%
Share photos or videos with others, 27.9%
Research products to buy, 27.5%
General networking with other people, 26.8%
Because a lot of my friends are on them, 25.1%
Share my opinion, 23.4%
Meet new people, 21.3%
What do you notice missing from this list?
For me, it's "demonstrating and proclaiming the reality of God's kingdom."
In The Sermon on the Mount, Jesus explains the normal way of life for his loyal followers. For instance, he states:
You are the light of the world. A city situated on a hill cannot be hidden. No one lights a lamp and puts it under a basket, but rather on a lampstand, and it gives light for all who are in the house. In the same way, let your light shine before others, so that they may see your good works and give glory to your Father in heaven.
I see the Uncommon Pursuit community as one space to practice and obey this command. My hope is that as we learn new rhythms of conversation for social media here, we will increasingly have the confidence and posture to bring these rhythms to other spaces — whether online or in-person.
What do you think?
What does it look like to see social media as a space to demonstrate and proclaim the reality of God's kingdom?
Grumpy cat photo attribution:
Gage Skidmore from Peoria, AZ, United States of America, CC BY-SA 2.0, via Wikimedia Commons