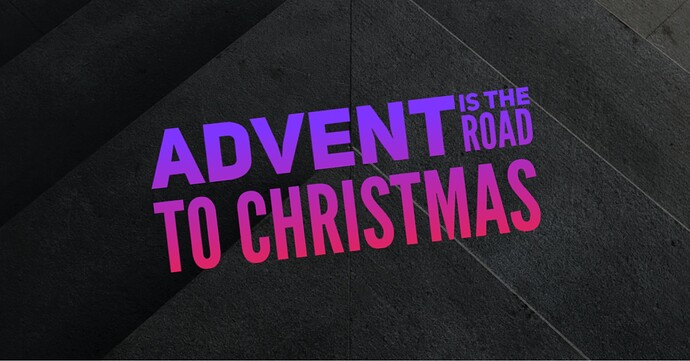 Today's Advent reading is Isaiah 54:1-10. (Click the link to open the passage in a new window).
Why is love so important? Why do we expect love? Why do we feel its absence so painfully?
As we first encounter Isaiah 54, it is remarkable that God invites us to imagine ourselves in the position of a desolate woman. The IVP OT Bible Background Commentary explains,
A woman who was unable to bear children in the ancient world was believed to be under the punishment of deity, incapable of serving the function for which she was married and therefore liable to be rejected and abandoned by her husband.
Thankfully, we no longer interpret childlessness in this way. But we still need to humble ourselves before God, recognizing that we are under his judgment and incapable of serving the function for which we were created. If anyone is desperate for undeserved love, it is us.
Yet though our spiritual state is dire, even humiliating, Isaiah is providing a picture of God's complete redemption. Given what we deserve, receiving this gift leads God's people to burst out in loud, joyful singing!
As the biblical scholar Alec Motyer summarizes verses 1-5,
The picture is that of the normative state of the community of the redeemed, the people of God, the church. They have been brought into being by supernatural birth (1), designed for growth (2–3) and are secure in the loving care of the Lord (4–5).
Are we rejected, barren, abandoned? No. God's love reverses the curse and establishes his people to grow and thrive under his authority and blessing.
So how will this great reversal take place?
In verses 6-10, the Lord pledges eternal, unconditional compassion and love to his people. God identifies himself as their Redeemer. He will wipe away their disgrace, marry his people, and permanently establish his covenant of peace. We see nothing in this passage to suggest that God's people deserve the salvation they are promised!
Linking together many Biblical themes, Motyer comments:
Throughout its history, the divine covenant has always been linked with sacrifice (Gn. 8:20ff.; 9:8ff.; 15:9–18; Ex. 24:4–8; Ps. 50:5). The link here between covenant and peace implies a peace resting on sacrifice – the death of the Servant.
For this week of Advent we consider the theme of love. In Isaiah's day, they anticipated a coming Servant whose death would demonstrate God's love and create everlasting peace between God and man.
How does this kind of waiting change our expectations for Christmas?
Personal Reflection and Community Discussion Questions:
Do you need God's love? Why?

How does Isaiah 54 build our confidence that God loves us?
You are encouraged to share other reflections on these passages.
You can find this week's Advent 2021 readings here: